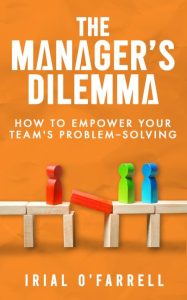 About The Manager's Dilemma:
As a manager, you're a great problem solver…but how do you develop your team's problem solving?
For most managers, they unwittingly disempower their team's problem solving. As a result, managers end up overloaded, overworked, overwhelmed…and don't know how to change the dynamic.
The Manager's Dilemma – How to Empower Your Team's Problem-Solving explains why this phenomenon happens, how to change the dynamic and how to develop each of your team members' problem-solving, regardless of their starting point.
Practical and easy to read, if you constantly find yourself sorting out issues you're convinced your team know (or should know) how to solve themselves, this book is your gamer-changer.
Targeted Age Group: 18+
Written by: Irial O'Farrell
Buy the ebook:
Buy the Book On Amazon
Buy the Print Book:
Buy the Book On Amazon
Author Bio:
Irial is endlessly fascinated with what makes individuals tick in the workplace and how to maximize business performance.
She's had an interesting career, going from Financial Services, into management, learning and development, executive coaching, leadership development, strategy, organisation design, and change management. She is the first CMI-accredited Master of Change Management in Ireland.
Otherwise, Irial loves running, eating yummy food, drinking good wines, travelling and reading (of course!).
Follow the author on social media:
Learn more about the writer. Visit the Author's Website
Facebook Fan Page
Twitter
Instagram
LinkedIn
YouTube
This site contains affiliate links to products. We may receive a commission for purchases made through these links.