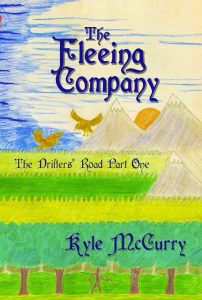 About The Fleeing Company (The Drifters' Road Part One):
The goblin chief, under the command of an evil lord named Vyroun, is hunting Adroegen and looking to retrieve a magic jewel that Adroegen once stole. Adroegen's friends will be killed if he does not return this jewel, and so he must lead them on a trying adventure as they run on foot through the wild from a pack of goblins that ride upon wolves.
Their only advantage is that goblins do not come out in the day, as the sun's light is blinding to them. Therefore, each day Adroegen and his friends must cover as much distance as they can before nightfall. Adroegen tracks how close the pack is by listening to the wolves howling in the night. The louder the wolves are, the closer the pack appears to be, and the greater the reason for worry.
But another trouble for Adroegen is that the goblin chief once helped to kill all in his family. Thus, Adroegen struggles to not vengeful desires take him, as he tries to protect his new family from the enemy who took his old one.
Targeted Age Group: 12-70
Written by: Kyle McCurry
Buy the ebook:
Buy the Book On Amazon
Buy the Book On Barnes & Noble/Nook
Buy the Book On Kobo
Buy the Print Book:
Buy the Book On Amazon
Buy the Book On Barnes & Noble/Nook
Author Bio:
Kyle Andrew McCurry is the author of The Fleeing Company and The Tempter's Bane, the first two books of The Drifters' Road fantasy book series. He was born and raised in southeast Michigan. Kyle is one with a hobby for storytelling and reading literature from the past, which led to him becoming an author. Among his favorite writers are J.R.R. Tolkien, Snorri Sturluson, Hans Christian Andersen, and George MacDonald, and among his books are European myths, fairytales, and sagas from long ago. When not reading or writing, Kyle spends his time watching movies, making homemade fudge that was passed down from his grandfather, and following the Detroit Red Wings, his favorite sports team.
Follow the author on social media:
Learn more about the writer. Visit the Author's Website
Facebook Fan Page
Twitter
This site contains affiliate links to products. We may receive a commission for purchases made through these links.