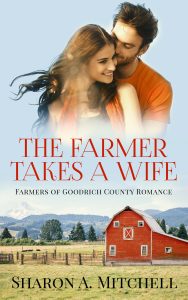 About The Farmer Takes a Wife:
She was done doing for everyone else. It was her turn now. Right? Surely, that's right. Please.
Fleeing the city, Mona had a lot to prove, and even more to learn. They said she couldn't do it. She knew she could. Well, maybe.
Responsible, and aloof, Reid held together his family farm, keeping the three-generation legacy alive. Alone, as he deserved to be.
They had nothing in common, no reason to connect.
Yet they did.
Read this clean and wholesome romance in the Farmers of Goodrich County series.
Targeted Age Group: Adults
Written by: Sharon A Mitchell
Buy the ebook:
Buy the Book On Amazon
Buy the Print Book:
Buy the Book On Amazon
Author Bio:
Dr. Sharon A. Mitchell lives on a farm, with her nearest neighbor several miles away. Doesn't that seem like the ideal setting to spark the imagination? She takes long walks with her hundred-pound German Shepherd dogs, Pickles and Dill. (She didn't name them – don't blame her).
She's working on her fourth psychological thriller novel for the When Bad Things Happen series.
Besides two, (almost three), short stories tied to that series, she's written six novels, each featuring an autistic child or young adult. Two nonfiction books accompany that autism series.
Sharon's been a teacher, counselor, psychologist and consultant for decades and continues to teach university classes to soon-to-be teachers and administrators.
Dr.Sharon A. Mitchell is author of the psychological thriller series When BadThings Happen:
·GONE
·TRUST
·SELFISH
-INSTINCT
-REASONS WHY
-MINE
-SANCTUM
·YOUNG ANNA (a short story)
·Anything for Her Son (prequel short story)
She's also written a series of six novels, each featuring a child or young adult on the autism spectrum:
·Autism Goes to School
·Autism Runs Away
·Autism Belongs
·Autism Talks and Talks
·Autism Grows Up
·Autism Goes to College
·Autism Box Set (contains the first five stories in this series)
There are also two nonfiction books:
·Autism Questions Parents Ask & the Answers They Seek
·Autism Questions Teachers Ask & the Answers They Seek
Follow the author on social media:
Learn more about the writer. Visit the Author's Website
Facebook Fan Page
Twitter
Instagram
LinkedIn
This site contains affiliate links to products. We may receive a commission for purchases made through these links.