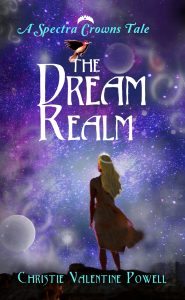 About The Dream Realm:
A princess with a forbidden power.
A man asleep for a hundred years.
Princess Lilac can't let her family find out that she's a dreamrover. Her father and her kingdom forbid the ability, but it's the only way to meet Vireo, her best friend from the dreamscape. When northern cities are attacked, her father is certain that dreamrovers are behind it. Lilac must find the truth before her family discovers her secret. Vireo has answers, if she can find him in the waking world. If only she knew how long he's been asleep… or of the enemy determined to keep him there.
Targeted Age Group: Young Adult
Written by: Christie Powell
Buy the ebook:
Buy the Book On Amazon

Author Bio:
Christie Valentine Powell wrote her first story in second grade, and she has been writing ever since. She published her first book, The Spectra Unearthed, in 2015, and has gone on to write many fantasy books all in the same universe. Her other hobbies include making toys, hobby farming, and eating at Asian buffets. She lives near the sunniest city in the world with her husband, four children, and many chickens.
Follow the author on social media:
Learn more about the writer. Visit the Author's Website
Facebook Fan Page
Twitter
Instagram
This site contains affiliate links to products. We may receive a commission for purchases made through these links.