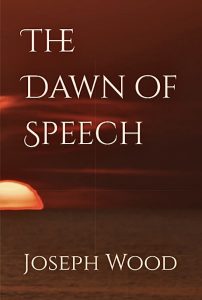 About The Dawn of Speech:
The Dawn of Speech is a collection of 21 unique poems crafted together to tell the story of a young man on his search for purpose. The collection starts in a somber mood as the young man has no driving force in his life. He doesn't have anything to give him hope. The mood then shifts to a more romantic tone as the young man falls in love. This love helps to give the young man purpose and hope for a time. Unfortunately, the love starts to decay and the young man is left again without anything to keep him going. The young man struggles against his own mind while wondering at his purpose in life. Eventually, he finds his purpose in Christ. The young man slowly starts to heal from the scars of life and the collection ends with the young man finding his true "Last Love".
Targeted Age Group: 15-65
Written by: Joseph Wood
Buy the ebook:
Buy the Book On Amazon

Buy the Print Book:
Buy the Book On Amazon
Author Bio:
Hello! My name is Joseph Wood, and I am the author of The Dawn of Speech. I love reading, writing, and watching shows. My favorite shows would have to Friends, HIMYM, and Psych. My favorite book series would be The Stormlight Archive by Brandon Sanderson. I started writing poetry because it was kind of a personal journal for me. Now I write poetry so that others can connect to the words and know that they're not alone. I hope you enjoy reading The Dawn of Speech!
Follow the author on social media:
Learn more about the writer. Visit the Author's Website
Instagram
This site contains affiliate links to products. We may receive a commission for purchases made through these links.