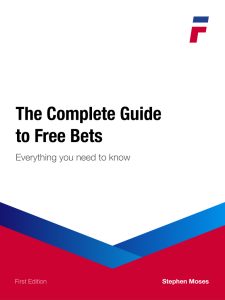 About The Complete Guide to Free Bets: Everything You Need to Know:
"The Complete Guide to Free Bets: Everything You Need to Know" is a comprehensive ebook that provides readers with all the information they need to make the most of free bet offers. Written by Stephen Moses, experienced sports pundit for freebets.ltd.uk, this ebook covers a wide range of topics, including:
How to find and take advantage of the best free bet offers
Strategies for using free bets to increase your chances of winning
Tips for managing your bankroll when using free bets
An in-depth look at the terms and conditions associated with free bet offers
A step-by-step guide to claiming and using free bets
The pros and cons of different types of free bets
A list of recommended free bet offers and promotions
This ebook is perfect for beginners and experienced sports bettors looking to make the most of free bet offers. It is written in an easy-to-understand style and is packed with practical tips and advice. Whether new to sports betting or a seasoned pro, you will find valuable information in this comprehensive guide.
Targeted Age Group: 21+
Written by: Stephen Moses
Buy the ebook:
Buy the Book On Amazon

Author Bio:
Stephen Moses is a sports betting expert with over ten years of experience in the industry. He began his career as a professional sports bettor before transitioning into a role as a commentator and analyst. He deeply understands the inner workings of the sports betting world and can provide valuable insights and predictions for those looking to make informed bets. He is a regular contributor to several sports betting publications, most notably freebets.ltd.uk where he discusses the latest trends and strategies in the world of sports betting. He is known for his in-depth analysis and ability to identify undervalued betting opportunities.
Follow the author on social media:
Learn more about the writer. Visit the Author's Website
This site contains affiliate links to products. We may receive a commission for purchases made through these links.