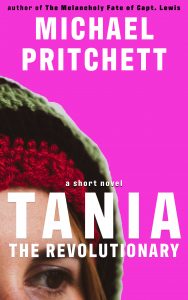 About Tania the Revolutionary:
A Midwestern girl, escaped from a cult and finding it hard to come home, gets unexpected help from newspaper articles saved in her mom's basement about the cult experience of a girl from one of America's oldest and wealthiest families, rescued in a police shoot-out after five years on the run with an urban militia.
Targeted Age Group: Adult
Written by: Michael Pritchett
Buy the ebook:
Buy the Book On Amazon
Buy the Book On Barnes & Noble/Nook

Buy the Print Book:
Buy the Book On Amazon
Author Bio:
Michael Pritchett is the author of The Melancholy Fate of Capt. Lewis and The Venus Tree and winner of an Iowa Short Fiction Award and a Dana Award, and received Special Mention in the 2019 Pushcart anthology for his Pushcart-nominated novel excerpt "A Sort of Woman," New Letters magazine. He teaches fiction writing at the University of Missouri-Kansas City.
Follow the author on social media:
Learn more about the writer. Visit the Author's Website
Twitter
This site contains affiliate links to products. We may receive a commission for purchases made through these links.