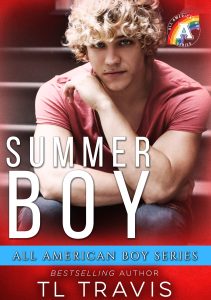 About Summer Boy: All American Boy Series:
Summer romance is not for those who are led by their heart.
For Jonah Thomas, life is wake up, eat breakfast, go to work at his family's restaurant Ahoy Matey's. Lather, rinse, repeat. Next! His hometown, the sleepy little Stoney Brook, Maine, doesn't offer much for someone like Jonah.
He's not really living and has no clear path in front of him. Jonah merely…exists.
Party boy, Micah Hannigan is determined to enjoy the summer before his final year of college. Stoney Brooke, Maine is not on his bucket list. Two weeks there with his family is a life sentence, especially when his friends are living it up on the beaches of Florida where he should be.
Micah has plans, lots of them but he'd never factored in meeting the beautiful and intriguing Jonah Thomas.
It's crazy how love always finds a way when you least expect it.
Targeted Age Group: 18
Written by: TL Travis
Buy the ebook:
Buy the Book On Amazon

Author Bio:
TL Travis is an award winning, published author of LGBTQIA+ contemporary romance and erotic musings that have earned a "Best-Selling Author" flag in the US and Internationally.
In her spare time, when she's not weaving steamy webs, she enjoys spending time with her family, fishing, wine tasting and people watching. Everyone has a story to tell, half the fun is dreaming up with what it is.
TL is surrounded by her 4-legged rescue family, her sons and adorable grandkids.
She will continue saving furry friends in need for as long as she breathes. Tl would like to remind you to "Adopt, not shop." Saving that lost soul may very well save yours.
Follow the author on social media:
Learn more about the writer. Visit the Author's Website
Facebook Fan Page
Twitter
Instagram
Pinterest
YouTube
This site contains affiliate links to products. We may receive a commission for purchases made through these links.