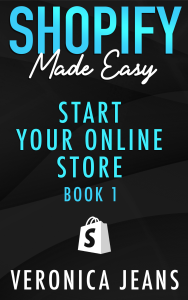 About Start Your Online Business: A Step-by-Step Guide To Establishing a Profitable eCommerce Business with Shopify:
Ready to make the leap into being your own ecommerce boss? Learn from an established pro and throw open the virtual doors to success.
Would you love to dive into Shopify but fear it's too complex? Already have an Etsy or Amazon store but looking for more independence? Are you tired of high fees and slow payments? With over three decades of experience as a business owner and international consultant, Shopify partner and expert Veronica Jeans has a passion for paving the way for aspiring entrepreneurs to profit quickly. And now she's here to ease your entry into this powerful selling platform and kick off your journey toward a fulfilling career path.
Start Your Online Business is a step-by-step blueprint for setting up fast while scaling for long-term prosperity. Presented in a clear and comprehensive format, Jeans digs into the nitty gritty of starting off right with laser-focused examples, actionable instruction, and easy-to-digest advice that'll have you crushing it in no time. And by employing this simple-to-follow plan, whether as an experienced seller or a raw beginner, you'll soon take the internet by storm with a sharp-looking and smooth-running e-store.
In Start Your Online Business, you'll discover:
– Up-to-date tutelage that allows you to leverage the advantages of the latest Shopify upgrades
– Invaluable tips aimed at getting your enterprise optimized and converting
– Next steps to outpace the competition so you'll grow and prosper
– The ins and outs of amping up sales for speedier returns on investment
– Helpful input for wrangling finances, maximizing strategies, and much, much more!
The first book in the groundbreaking Shopify Made Easy 2023 series, Start Your Online Business is an eye-opening and sweeping game plan for taking your ecommerce venture to the next level. If you like self-determination, fast-action approaches, and crystal-clear explanations, then you'll adore Veronica Jeans' guide to victory.
Buy Start Your Online Business to strike while the iron's hot today!
Targeted Age Group: Adult
Written by: Veronica Jeans
Buy the ebook:
Buy the Book On Amazon
Buy the Print Book:
Buy the Book On Amazon
Author Bio:
Veronica Jeans is a highly regarded eCommerce business consultant, Shopify partner, bestselling author, and sought-after speaker. With over 35 years of experience in international business, she has become an expert in helping eCommerce businesses expand their reach and grow globally. From startups to traditional brick-and-mortar stores, Veronica's expertise has been invaluable to businesses looking to increase their revenue streams by launching their own online outlets.
Combining her extensive knowledge in eCommerce with her international financial expertise, Veronica has developed a comprehensive playbook for generating income online. Her strategies have helped numerous businesses achieve success in the highly competitive online marketplace.
In addition to her consulting work, Veronica is the founder of Kalaharioil.com, a highly successful skincare company that she launched and manages herself. As a Shopify partner, she also supports her clients' online stores, helping them optimize their sales and marketing strategies to achieve maximum profitability.
Originally from Namibia, Veronica has lived with her husband and sons in several countries before settling in Houston, Texas, where she currently resides on a yacht. She considers herself to be in "entrepreneur heaven" and continues to inspire and empower businesses worldwide with her expertise and experience.
Follow the author on social media:
Learn more about the writer. Visit the Author's Website
Facebook Fan Page
Twitter
Instagram
Pinterest
YouTube
This site contains affiliate links to products. We may receive a commission for purchases made through these links.