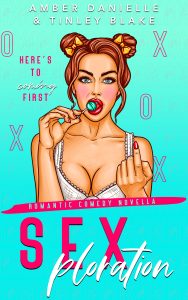 About Sexploration:
Sexploration: The divine art of satisfying your lady bits, one man at a time.
 
What else is there to do when your husband cheats on you, ending your marriage after ten years? It seemed like a perfectly good idea at the time. Merely a way for me to heal and find myself again. No harm, no foul.
 
Until I ended up in bed with my new roommate.
 
August Brooks is impossibly attractive and annoyingly charming. The kind of guy who turns women into gushing idiots. Myself included.
 
But he's also my brother's best friend and twelve years my junior.
 
He agreed to be my wingman and help me get my little expedition underway. But the next thing I know, he's making my body feel things I didn't even think it was capable of.
 
There's only one way I see this ending—badly.
 
Targeted Age Group: 18
Written by: Tinley Blake
Buy the ebook:
Buy the Book On Amazon

Author Bio:
Amber Danielle and Tinley Blake met through the writing community 5 years ago and quickly become close friends. After years of self-publishing several romance books separately, they decided to embark on a writing venture together.
And magically their friendship survived.
Follow the author on social media:
Learn more about the writer. Visit the Author's Website
Facebook Fan Page
Twitter
Instagram
This site contains affiliate links to products. We may receive a commission for purchases made through these links.