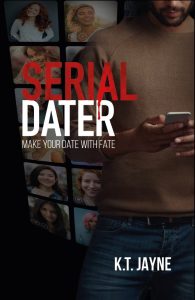 About Serial Dater:
Who can you trust if you can't trust yourself?
When Scott McCabe's wife dies tragically he almost loses his mind. And his son.
Three years later he's a struggling lone parent to six-year-old Jae, who longs for a new Mum. So reluctantly, Scott lets his best friend talk him into online dating.
And from the minute he publishes his profile, Scott has made his Date with Fate.
Underneath his casual exterior Scott is a man with a tormented conscience, a potholed memory and a vivid imagination. Is he plagued by guilt about Sally's death, or is it something that runs much deeper?
Scott doesn't know, any more than he knows what he does when he loses time. And Scott loses a lot of time.
When the girls he dates disappear one-by-one, he begins to doubt his sanity. And as police suspicion falls to him, he doesn't know who he can trust.
Least of all himself.
A dark and totally gripping page-turner of a psychological thriller that delivers a killer twist
What people are saying about SERIAL DATER:
"K.T. Jayne has nailed the suspense."
"Accomplished and compulsive. A deeply impressive first novel."
"A final scene that will get book clubs talking!"
"A sharp intake of breath just when you thought it was over."
"A real page turner with some stunning twists."
"You'll have many theories while reading this book, but the ending will still surprise you."
"A well-plotted, psychological thriller that'll keep you guessing." The Wishing Shelf Book Awards
Targeted Age Group: 18+
Written by: K.T. Jayne
Buy the ebook:
Buy the Book On Amazon
Buy the Book On Barnes & Noble/Nook

Buy the Print Book:
Buy the Book On Amazon
Author Bio:
As an indie-award nominated filmmaker and lecturer in film, K.T. Jayne wrote and directed several short films that screened in art house cinemas and festivals across the UK and Europe. Exploring ideas of fractured identities and loss of self, her psychological thrillers laid the foundations for the themes that she comes back to in Serial Dater: a gripping original take on a serial killer thriller with a stunning twist.
Born in Cheshire, K.T. Jayne now lives with her husband and son in Surrey.
To find out more, or to contact K.T. Jayne, visit kt-jayne.com
Follow the author on social media:
Learn more about the writer. Visit the Author's Website
Facebook Fan Page
Twitter
Instagram
This site contains affiliate links to products. We may receive a commission for purchases made through these links.