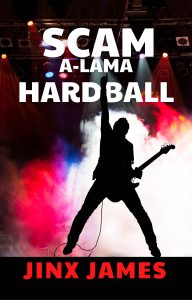 About Scam A-Lama Hardball:
Rock Star Marc Charles desperately needs a new hit, but there's something suspicious about the new offer he's been made by a mysterious overseas organisation. Is he the target of a stand-over tactic? Who is out to wreck his career? A former groupie takes her revenge. A secret agent gets involved. Then the Taxman, some nasty Bosnians, a crass Shock Jock, and his PR Princess. It's all a twisted, crazy plot to con the rock star. Dark humor.
Targeted Age Group: adult
Written by: Jinx James
Buy the ebook:
Buy the Book On Amazon
Author Bio:
Humorous crime fiction author Jinx James was born in the UK, and lives in Australia. He has worked in music, advertising, and TV comedy.
He now lives in a wine-growing area in regional Australia with his wife and two dogs.
He used to collect guitars. Now he collects wine.
Jinx James has always been fascinated by charisma, satire, and what makes people laugh. These are the elements he aims for in all his stories.
His love of Classic Rock and Soul and the thrills and spills of showbiz take centre stage in his new series starring ageing Australian rock star Marc Charles. It's a thrilling crime scam series with scandal, dodgy schemes and even dodgier contracts, plus intrigue, sexy back-up singers and, of course, dark humour.
Follow the author on social media:
Learn more about the writer. Visit the Author's Website
This site contains affiliate links to products. We may receive a commission for purchases made through these links.