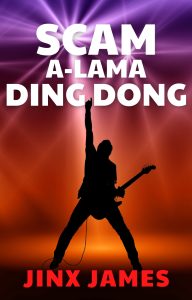 About Scam A-Lama Ding Dong: A Dark Comedy Crime Caper (Book 1 Con the Rock Star series):
Slide into the sleazy side of Show Business and uncover a sly scheme to con the rock star, in a hilarious exposé of deception, corrupt behaviour, celebrity, lies and love.
Rock stars like Marc Charles don't like being messed with by crooked con artists. Targeted by a Show Business organization operating a hostile mafia-like scam, jaded rock star Marc Charles knows he's got to fight back to survive. He can play dirty too! But can he turn the tables on the crooked "Pay-to-Play" scammers? Can he trust his horny, tough-as-nails agent now that her company has been taken over by the same scumbag corporation?
Targeted Age Group: 18+
Written by: Jinx James
Buy the ebook:
Buy the Book On Amazon
Author Bio:
Humorous crime fiction author Jinx James was born in the UK, and lives in Australia. He has worked in music, advertising, and TV comedy.
He now lives in a wine-growing area in regional Australia with his wife and two dogs.
He used to collect guitars. Now he collects wine and has fun creating crazy characters.
Follow the author on social media:
Learn more about the writer. Visit the Author's Website
This site contains affiliate links to products. We may receive a commission for purchases made through these links.