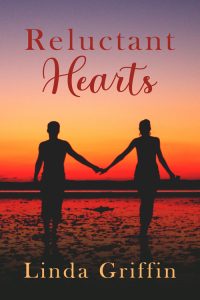 About Reluctant Hearts:
Four couples, four stories: Darien Francis and Richard Li meet during a bank robbery, but she's afraid to love again. Shane Kenniston and Beth Parker are reacquainted years after she had a crush on him, but she is a recent widow, and Shane's life was upended by a false accusation. David Early and Kate Howard meet in the laundromat, but her life is consumed by the needs of her disabled child, and David isn't ready for the responsibility. Realtor Frank Ellison meets Kayla Barnes at an open house, but a mistaken first impression derails any chance of romance. Can they all overcome the obstacles to love?
Targeted Age Group: Adult
Written by: Linda Griffin
Buy the ebook:
Buy the Book On Amazon
Buy the Book On Barnes & Noble/Nook
Buy the Book On Apple Books

Buy the Print Book:
Buy the Book On Amazon
Buy the Book On Barnes & Noble/Nook
Buy the Book On Indie Bound
Author Bio:
I was born and raised in San Diego, California and earned a BA in English from San Diego State University and an MLS from UCLA. I began my career as a reference and collection development librarian in the Art and Music Section of the San Diego Public Library and then transferred to the Literature and Languages Section, where I had the pleasure of managing the Central Library's Fiction collection. Although I also enjoy reading biography, memoir, and history, fiction remains my first love. In addition to the three R's—reading, writing, and research—I enjoy Scrabble, movies, and travel.
My earliest ambition was to be a "book maker" and I wrote my first story, "Judy and the Fairies," with a plot device stolen from a comic book, at the age of six. I broke into print in college with a story in the San Diego State University literary journal, The Phoenix, but most of my magazine publications came after I left the library to spend more time on my writing.
Follow the author on social media:
Learn more about the writer. Visit the Author's Website
Facebook Fan Page
Twitter
Instagram
Pinterest
LinkedIn
This site contains affiliate links to products. We may receive a commission for purchases made through these links.