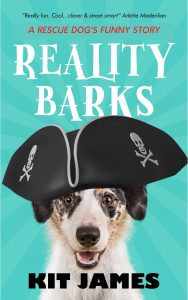 About Reality Barks: A Rescue Dog's Funny Story:
Rescued from the Dog Pound by two slick couples who decide to Time Share their new dog, Barney, a country mutt, is transformed to become 'Elliott', a metro dog. If that's not confusing enough, one of them, Jamie, the Ad man Alpha Male of the foursome, has plans to turn Elliott into a moneymaking TV star. Could be tricky! Elliott's unusual gift is that he can read auras, as well as understand everything that's said to him. It's a heart-warming comedy played all the way for laughter and tears, with a surprise ending.
Elliott gives you a dog's version of life, death and stardom.
Targeted Age Group: 18+
Written by: Kit James
Buy the ebook:
Buy the Book On Amazon
Buy the Print Book:
Buy the Book On Amazon
Author Bio:
I was born in England and came to Australia with my parents in the Seventies. Shortly afterwards I was adopted by a stray dog, and that was that. Dogs have played a big part in my life ever since. I love them for their honesty, their faithfulness, and, yes, for their sense of humour too.
What has been the inspiration for the books in the Elliott series?
An element of every dog who has shared his life with me has been an inspiration for the characters in my Mutt to Megastar series. And I say "who" because I think of dogs as being an animal person, just as we humans are.
What was the greatest challenge in writing the Mutt to Megastar series?
What I cared about most was making Elliott's character believable. It's important for readers to care about him, and to relate to his fear of being sent back to the Dog Pound believable. My wife and I have adopted quite a few rescue dogs, and they never forget the hard times they went through. It's there just under the surface, no matter how much you love them and help them to feel secure. At the same time I wanted this to be a humorous story, and believable as told from the dog's perspective. We humans are a funny, and sometimes, a weird lot, especially when we're scheming, like Jamie is.
An Amazon reviewer beautifully summed up Elliott's story as "a dog's version of life, death and stardom."
Follow the author on social media:
Learn more about the writer. Visit the Author's Website
This site contains affiliate links to products. We may receive a commission for purchases made through these links.