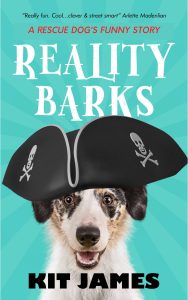 About Reality Barks: A Rescue Dog's Funny Story:
A rescue dog faces the reality of his unusual new life.
When two glossy Sydney metro couples rescue an ordinary Aussie mutt from the Dog Pound, he wonders why… especially when they change his name to Elliott! But he soon realizes that Jamie, the alpha-male of one of the couples, has plans for him… big plans! It's a humorous Australian rescue dog's tell-all tale about how he becomes a celebrity and wins their love.
"A dog's version of life, death and stardom", Amazon 5-star Review.
Targeted Age Group: 18+
Written by: Kit James
Buy the ebook:
Buy the Book On Amazon
Buy the Print Book:
Buy the Book On Amazon
Author Bio:
Kit James was born in the UK. He came to live in Australia with his parents in the 1970's. He was adopted by a stray dog, and that was that.
Dogs have been a big part of his family ever since. He loves them for their honesty, loyalty, and yes, sense of humour.
The dog he'd most like to meet? Chet, Spencer Quinn's amazing dog-with-attitude!
Kit has worked in advertising, music and writing comedy for TV, all of which he loved. Today, writing is his focus, both as Kit James, and reflecting his comedy crime side, as Jinx James. Next, he's going to add paranormal to his repertoire, but as always, with a quirky sense of humour.
Follow the author on social media:
Learn more about the writer. Visit the Author's Website
This site contains affiliate links to products. We may receive a commission for purchases made through these links.