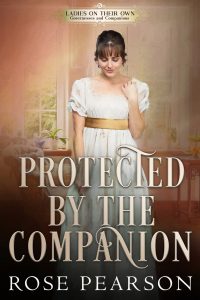 About Protected by the Companion:
The Earl of Bargrave promised to chaperone his niece for the London season. Not her companion! Miss Emma Lawder was sent away as a companion by an uncaring father and struggles with the earl's displeasure on several occasions. When she discovers a plot to trap him into marriage, will she tell him?
Targeted Age Group: 40+
Written by: Rose Pearson
Buy the ebook:
Buy the Book On Amazon
Buy the Print Book:
Buy the Book On Amazon
Author Bio:
Rose has read her way through countless romances over the years, "borrowing" them from her older sisters, and hiding them from her mother (Mom didn't like the sexy book covers!)
She has a special love for Regency romances and when she began writing, the Regency period was a natural place to start. The ton, the wealthy families, the Season, the dilemmas, and yes, the marriages, have always fascinated her. She loves a happy ever after! Now she is happy to bring this passion to her stories and share it with her readers.
On a personal note, Rose lives in North Carolina, is married, and has a terrier that barks too much. She enjoys taking him for walks to tire him out!
Follow the author on social media:
Learn more about the writer. Visit the Author's Website
Facebook Fan Page
Twitter
Instagram
This site contains affiliate links to products. We may receive a commission for purchases made through these links.