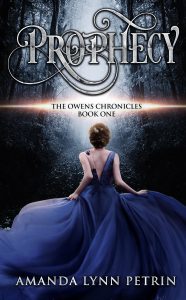 About Prophecy:
After prom night takes a dangerous turn, Lucy Owens discovers a family secret that throws her whole existence into question. With the help of Embry & Gabriel—two mysterious young men with supernatural Gifts—can Lucy escape a terrible fate?
Targeted Age Group: Teens and Young Adult
Written by: Amanda Lynn Petrin
Buy the ebook:
Buy the Book On Amazon
Buy the Book On Barnes & Noble/Nook
Buy the Book On Smashwords
Buy the Book On Apple Books
Buy the Book On Kobo
Buy the Print Book:
Buy the Book On Amazon
Buy the Book On Barnes & Noble/Nook
Author Bio:
Amanda Lynn Petrin is the author of Shards of Glass, as well as The Owens Chronicles and The Gifted Chronicles series. She graduated with a double major in History and Psychology from McGill University, then spent a decade pursuing an acting career before turning to writing. She currently lives in Montreal, where she enjoys spending time with her family and living vicariously through her characters.
Follow the author on social media:
Learn more about the writer. Visit the Author's Website
Facebook Fan Page
Twitter
Instagram
This site contains affiliate links to products. We may receive a commission for purchases made through these links.