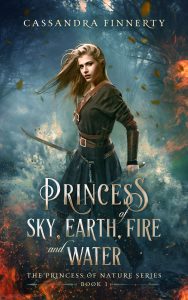 About Princess of Sky, Earth, Fire and Water:
In 1772, amidst the wilds of western Ireland, a young woman inherits a fleet of ships and special powers.
To keep her magic, she journeys to the East Kingdom, where she falls in love with a warrior prince.
Targeted Age Group: Adult
Written by: Cassandra Finnerty
Buy the ebook:
Buy the Book On Amazon

Buy the Print Book:
Buy the Book On Amazon
Author Bio:
Cassandra is the author of action-adventure, fantasy and romance.
She loves to create bold, untamed and endearing characters who struggle to overcome their flaws.
Her fondness for western Ireland – with its rugged shores, hidden caves and wind- swept cliffs — inspired many settings in the Princess of Nature Series.
Cassandra enjoys writing about mystical powers, lush landscapes and stormy seas.
Follow the author on social media:
Learn more about the writer. Visit the Author's Website
Facebook Fan Page
Twitter
Instagram
YouTube
This site contains affiliate links to products. We may receive a commission for purchases made through these links.