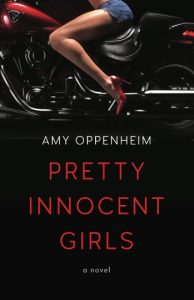 About Pretty Innocent Girls:
A prisoner is locked in the shed next door. Suburban bystander Blake Davis knows he's there, so why hasn't she told the police? Wrestling with her response to the danger unfolding, Blake is drawn from the recent disappointments in her marriage into the intoxicating fold of the Army of Outlaws. As she learns more about her magnetic but dangerous new neighbor, Hayden, temptation lures her into the darkness… into his lawless world. Will her addiction to adrenaline be her savior–or take her past the point of no return?
Targeted Age Group: 18+
Written by: Amy Oppenheim
Buy the ebook:
Buy the Book On Amazon

Buy the Print Book:
Buy the Book On Amazon
Author Bio:
Amy Oppenheim is a marketing professional by day and writer by night. Her style is a culmination of an obsession with true crime and a love of the California Central Coast. A native Southern Californian, she has lived in Santa Barbara for over a decade and holds a B.A. in English Literature from the University of California, Santa Barbara.
Follow the author on social media:
Learn more about the writer. Visit the Author's Website
Twitter
This site contains affiliate links to products. We may receive a commission for purchases made through these links.