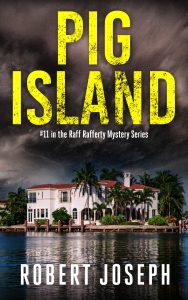 About Pig Island:
Cop-turned-priest Raff Rafferty travels to Florida in the hunt for a girl who mysteriously disappeared from Miami Beach during raucous 'spring break' and may have been kidnapped by notorious sex traffickers.
Targeted Age Group: 16 – 99
Written by: Robert Joseph
Buy the ebook:
Buy the Book On Amazon

Buy the Print Book:
Buy the Book On Amazon
Author Bio:
Robert Joseph has published 22 books, both fiction and non-fiction, including the 11 book Raff Rafferty Mystery Series. In addition, he has also written for motion pictures, television and the theater. Robert presently resides in rural Nevada where he can indulge his Sagittarian love of big dogs and horses.
This site contains affiliate links to products. We may receive a commission for purchases made through these links.