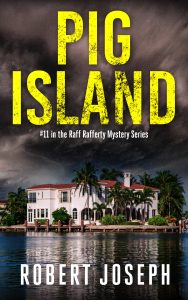 About Pig Island:
Cop-turned-priest Raff Rafferty goes to Florida to find a missing coed kidnapped during 'spring break' by a sex trafficking ring.
Targeted Age Group: 16 – 100
Written by: Robert Joseph
Buy the ebook:
Buy the Book On Amazon

Buy the Print Book:
Buy the Book On Amazon
Author Bio:
Robert Joseph has published more than 20 novels. In addition he has also written for television, the movies and the stage. He currently lives in rural Nevada where he can enjoy his Sagittarian love for big dogs and horses.
This site contains affiliate links to products. We may receive a commission for purchases made through these links.