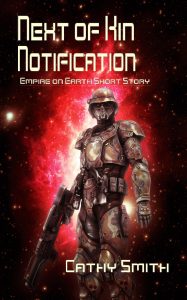 About Next of Kin Notification:
Lavan is on the verge of challenging his cousin Garth to a battle for dominance when Garth is discovered murdered in the harbor. Despite being next of kin, Lavan is the main suspect. Whatever his conflicts with his cousin may have been, Lavan cannot allow a member of the Hunn Clan to be murdered without avenging them. And can he do it while clearing his own name of the crime?
Targeted Age Group: 18-65
Written by: Cathy Smith
Buy the ebook:
Buy the Book On Amazon

Author Bio:
Cathy Smith is a Mohawk writer who lives on a Status Reservation on the Canadian Side of the Border on Turtle Island (North America).
Follow the author on social media:
Learn more about the writer. Visit the Author's Website
Facebook Fan Page
Twitter
Instagram
This site contains affiliate links to products. We may receive a commission for purchases made through these links.