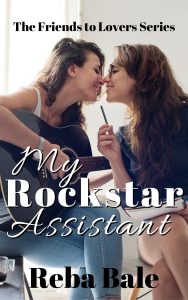 About My Rockstar Assistant:
Her new assistant is strictly professional – at least until the night she lets her hair down.
Rock superstar Lila never set out to be a lesbian icon. She's adored by millions and plays to sold-out stadiums around the world, yet she longs for the quiet comfort of a wife and family.
After a long string of crappy jobs, Christine is thrilled to get the chance to work as the personal assistant to a famous rockstar. Her last long-term relationship crashed and burned the week before the wedding, and she's ready to have some adventures and escape the judgment of her small town. This job is her chance to prove to everyone that she's not the hot mess they think she is.
When Lila and Christine get snowed in at Lila's mountain cabin on Valentine's weekend, their attraction becomes too hard to resist. It turns out that they're not as different as people might think. But when the snow melts and the paparazzi come knocking on the door, their off-limits relationship is suddenly in the spotlight. Will their love withstand the scrutiny?
"My Rockstar Assistant" is book three in the "Friends to Lovers" romantic novella series. Each book in the series is a steamy standalone featuring an LGBTQ couple making the leap from friends to lovers and looking for their "happily ever after". This book includes explicit sexual activity between consenting adults. It is intended for mature audiences only.
Targeted Age Group: adult
Written by: Reba Bale
Buy the ebook:
Buy the Book On Amazon
Buy the Book On Barnes & Noble/Nook
Buy the Book On Smashwords
Buy the Book On Apple Books
Buy the Book On Kobo
Author Bio:
Reba Bale loves writing naughty stories where the characters are able to tap into their inner fantasies and experience spanking, bondage, humiliation or other activities on the non-vanilla side of life. When Reba isn't writing she is reading the same naughty stories she likes to write.
Follow the author on social media:
Twitter
Instagram
This site contains affiliate links to products. We may receive a commission for purchases made through these links.