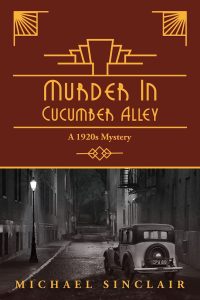 About MURDER IN CUCUMBER ALLEY:
It is February 1927 and Schenectady, New York, proud home of General Electric is booming with prosperity. Rodney Longworth, handsome and debonair assistant manager at the elegant Hotel Van Curler, experiences firsthand the explosion of violence when two women are brutally murdered in Cucumber Alley, not far from the home he shares with his parents in the historic stockade district.
Soon yet another victim is found. It seems no one is safe. As his suspicions and apprehension grow, Rodney elicits the assistance of Sloane Sheppard, a private investigator. Long held secrets, surprising family revelations, open hostilities and another murder attempt confound Sloane as he races against time to resolve the crisis occurring in the otherwise placid neighborhood.
Amidst a backdrop of flappers, speakeasies, jazz music, beguiling scientists and the newfound expedient of television, Murder in Cucumber Alley continues to a shocking denouement when Sloane Sheppard unmasks the culprit behind the horrendous murders in Cucumber Alley.
Targeted Age Group: adult fiction
Written by: Michael Sinclair
Buy the ebook:
Buy the Book On Amazon

Buy the Print Book:
Buy the Book On Amazon
Buy the Book On Barnes & Noble/Nook
Author Bio:
Michael Sinclair is a native of Albany, New York. His previous novels in the 1920s historical series are An Unfortunate Coincidence and The Consequences of Murder.
This site contains affiliate links to products. We may receive a commission for purchases made through these links.