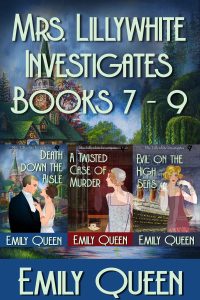 About Mrs. Lillywhite Investigates Books 7-9: A Cozy Historical Mystery Series:
This is a collection of books seven through nine in the Mrs. Lillywhite Investigates series including the following titles: Death Down the Aisle, Evil on the High Seas, and An American Alibi.
Targeted Age Group: Trade
Written by: Emily Queen
Buy the ebook:
Buy the Book On Amazon
Author Bio:
Emily Queen is an American author writing historical cozy murder mysteries with strong female characters set in 1920's Britain. If you're not careful, she might just kill you off in one of her novels…
Follow the author on social media:
Learn more about the writer. Visit the Author's Website
Facebook Fan Page
This site contains affiliate links to products. We may receive a commission for purchases made through these links.