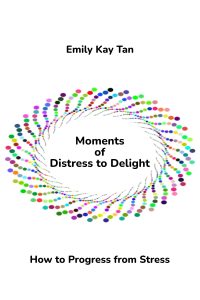 About Moments of Distress to Delight: How to Progress from Stress:
Annoyances, irritations, displeasure, and discomfort all bring forth frustration or anger. There are different ways to deal with them. But as you transit through the personal stories in this book, you can progress from distress. From any life happenstance, you can turn negative situations into positive instances by putting on lenses that add value and enrich your experiences.
This book opens into real-life moments of distress to delight. A little stress and strain here and there can all add up to create much pain. Before getting engulfed in fury and rage, you can move from distress to delight by seeing the gems in unpleasant situations. The stories told happened, and the disclosed perceptions reveal appreciation and beauty in life that can alleviate discontent and bring brightness to darkness.
Targeted Age Group: 18-65
Written by: Emily Kay Tan
Buy the ebook:
Buy the Book On Amazon

Buy the Print Book:
Buy the Book On Amazon
Author Bio:
Emily Kay Tan is a teacher, entrepreneur, podcaster, and writer. Born in the South, she grew up on the east coast and began her careers on the west coast. Silenced as a child, her opinions, comments, or existence didn't seem to matter to her relatives. She grew to be a relatively quiet person. Though she is often quiet, she has much to say. Though there often seems to be something stuck in her throat, she hungers to express lots. At midlife with more than half her life over, she finally found two ways to let that voice out fully! By expressing her voice as a podcaster, she is tickled with joy. By sharing her voice as a writer, she finds meaning in a life she never thought she had.
Follow the author on social media:
Learn more about the writer. Visit the Author's Website
Twitter
LinkedIn
YouTube
This site contains affiliate links to products. We may receive a commission for purchases made through these links.