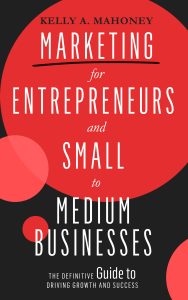 About Marketing for Entrepreneurs and Small to Medium Businesses: The Definitive Guide to Driving Growth and Success:
This guide is for those who want to build their business, and create winning approaches to the market.
Avoid common pitfalls, saving time and money.
Accelerate revenue growth and success.
If you want to thrive in today's dynamic environment, then you'll enjoy reading this book.
Targeted Age Group: Adults
Written by: Kelly Mahoney
Buy the ebook:
Buy the Book On Amazon

Buy the Print Book:
Buy the Book On Amazon
Author Bio:
Kelly A. Mahoney is the CEO of Castle Swan Media, responsible for revenue generation, new product development, merchandising and partnerships.
She has held senior level positions at public, private and emerging companies.
Previously, she served as Chief Marketing Officer for Arnold Direct, a division of Arnold Worldwide, a global advertising agency; Chief Marketing Officer
for the e-commerce division of Staples, Inc.; and Senior Vice President of Strategy and Business Development for Harte-Hanks, a global marketing
and media organization.
Kelly holds a Bachelors degree in General Studies from the University of Michigan and
a Diploma in Strategy and Innovation from the Saïd Business School, University of Oxford, United Kingdom.
Follow the author on social media:
Learn more about the writer. Visit the Author's Website
Facebook Fan Page
Twitter
Instagram
YouTube
This site contains affiliate links to products. We may receive a commission for purchases made through these links.