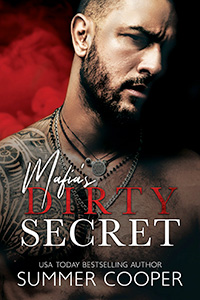 About Mafia's Dirty Secret:
Marie should have run away from her abusive mother when she had the chance.
But she stayed home and cared for the terminally ill monster.
The one person that she loved but never loved her back.
Just as she thought her miserable life was never going to get better…
She met a mysterious out-of-towner.
She ignored her mother's advice: to never speak with any man, that all men are bad.
This beautiful stranger showered her with gifts, kindness, and attention.
He gave her the sort of love that she had never experienced before in her life.
What Marie didn't know is that this gorgeous man—a mafioso—had a reason to get close to her.
He was on a special revenge mission—and she was his target.
Targeted Age Group: 25+
Written by: Summer Cooper
Buy the ebook:
Buy the Book On Amazon
Buy the Book On Barnes & Noble/Nook
Buy the Book On Smashwords
Buy the Book On Apple Books
Buy the Book On Kobo
Buy the Print Book:
Buy the Book On Amazon
Author Bio:
Besides (obviously!) reading and writing, Summer also loves cuddling her dogs, shouting at Alexa, being upside down (aka Yoga) and driving her family cray-cray!
Follow the author on social media:
Learn more about the writer. Visit the Author's Website
Facebook Fan Page
Twitter
Instagram
This site contains affiliate links to products. We may receive a commission for purchases made through these links.