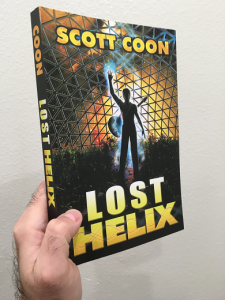 About LOST HELIX:
A sci-fi adventure/mystery by award winning writer Scott Coon
Stuck on an asteroid mining facility, DJ dreams of writing music. But when his dad goes missing, DJ finds a file containing evidence of a secret war of industrial sabotage, a file encrypted by his dad using DJ's song Lost Helix.
Caught in a crossfire of lies, DJ must find his father and the mother he never knew.
Targeted Age Group: YA
Written by: Scott Coon
Buy the ebook:
Buy the Book On Amazon
Buy the Book On Barnes & Noble/Nook
Buy the Book On Smashwords
Buy the Book On Apple Books
Buy the Book On Kobo
Buy the Print Book:
Buy the Book On Amazon
Buy the Book On Barnes & Noble/Nook
Buy the Book On The Author's Website
Author Bio:
Scott Coon is an award-winning short story writer and former U.S. Army Intelligence Analyst. He served for six years, including a tour in Kuwait where he received the Joint Service Achievement Award. Now a software developer for a major bank, Scott brings his computer and military experience into his work, along with a sense of spectacle. See his website for links to his published shorts and his papers on the art and business of writing, as well as his debut novel, LOST HELIX.
Follow the author on social media:
Learn more about the writer. Visit the Author's Website
Facebook Fan Page
Twitter
Instagram
YouTube
This site contains affiliate links to products. We may receive a commission for purchases made through these links.