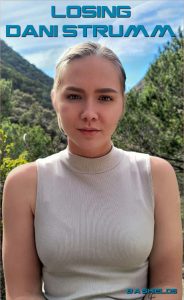 About Losing Dani Strumm:
Dani was a natural in school. Her only distraction was an absent mother and her suicidal brother, whom she felt overly protective. Maybe because she assumed the role when her mother abandoned them, or perhaps it was just her nurturing way.
She worked hard after graduating, joining the military to expedite her acceptance and training in the Institute, which almost guaranteed her entrance into the New Earth Corps. This is where she would set her sights on a once-in-a-lifetime mission to Tau Ceti e, the nearest Earth-like planet, where she would become the first woman explorer in deep space.
The mission was only possible once every sixty years because of the strange elongated elliptical orbit of Tau Ceti e, which made it impossible to reach more than once in a person's lifetime. However, modern technology did allow humankind to get to the edge of the planet's orbit every sixty years for approximately three months. Dani aspired to travel this great distance to carry out this dangerous and previously failed mission. Unfortunately, the last mission team was never heard from after a scouting trip.
Her job was a simple one. Release scientific orbital satellites around Tau Ceti e to gather important information for team two, which would form a landing and exploration party.
Within minutes of releasing the second satellite, something went horribly wrong. Dani would find herself scrambling for the emergency escape pod to flee a dying ship. Within minutes she would find herself on an alien planet with two weeks of supplies, two days of oxygen, injured, and her rescue nearly two months away.
Losing Dani Strumm is a compelling explorative story of self-discovery. It is a surprising tale of forgiveness and redemption. It's about love, luck, fate, and a complex woman who discovers her lifelong dream is not what she thought it to be.
Targeted Age Group: 17
Written by: B. A. Shields
Buy the ebook:
Buy the Book On Amazon

Buy the Print Book:
Buy the Book On Amazon
Author Bio:
Bruce A. Shields is an author of both science fiction and nonfiction, including the post-apocalyptic series Pandemic Dawn and his upcoming eighth novel, Losing Dani Strumm. He was born in Flint and has lived most of his life in Northern Michigan. When not writing, he spends time with his wife and their children.
Follow the author on social media:
Learn more about the writer. Visit the Author's Website
Facebook Fan Page
Twitter
Instagram
YouTube
This site contains affiliate links to products. We may receive a commission for purchases made through these links.