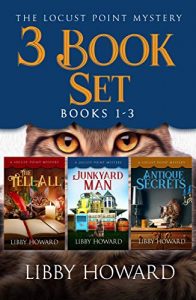 About Locust Point Mystery 3 Book Set:
Life at sixty isn't quite what Kay Carrera expected. She's working as a skip-tracer for a PI who is desperate to land his own reality TV show. She has a new roommate who arrived with more than the usual amount of baggage. And her attempts at knitting are less than stellar – way less than stellar. Worse, the cataract surgery that restored her sight has also delivered an unexpected and disturbing side-effect.
Kay sees ghosts. And when the dead turn to her for help, she just can't say no.
Targeted Age Group: 18+
Written by: Libby Howard
Buy the ebook:
Buy the Book On Amazon
Author Bio:
Libby Howard lives in a little house in the woods with her sons and two exuberant bloodhounds. She occasionally knits, occasionally bakes, and occasionally manages to do a load of laundry. Most of her writing is done in a bar where she can combine work with people-watching, a decent micro-brew, and a plate of Old Bay wings.
Follow the author on social media:
Learn more about the writer. Visit the Author's Website
Facebook Fan Page
Instagram
This site contains affiliate links to products. We may receive a commission for purchases made through these links.