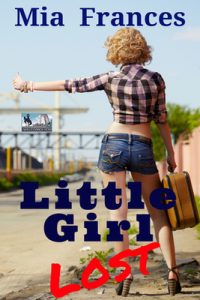 About Little Girl Lost:
Wyoming sheriff Zac McHenry is fit to be tied. A new "working girl" just showed up at a local truck stop, ruining his stakeout. There's been an influx of transients passing through his county lately. Bringing an epidemic of drugs, crime, and vice with them. The last thing he wants is another hooker setting up shop in town. He's determined to send her packing. He's 6′ 4″ and she's a little bit of a thing…how hard could it be? Turns out getting rid of her isn't as easy as he thought. When he barges into her motel room, she thinks he's an attacker and wallops him with her purse. She's arrested for assaulting an officer and hauled off to jail.
Zac soon realizes things aren't what they seem. Ali Bellabonafortuna is no hooker. She's a youth librarian from upstate New York. Much to Zac's chagrin, Ali is well connected. She knows several state and federal judges who intercede on her behalf. He's forced to let her go. Thinking she'll leave as soon as she's released, he checks her out of her motel room, but Ali's not going anywhere. She's staking out the truck stop too, looking for the man who picked up a 13-year-old runaway named Peeky. The girl participated in a program for at-risk teens at Ali's library. She disappeared from the truck stop a week ago and hasn't been heard from since. Ali's not leaving until she finds her. There's a rodeo in town and her room's already been rented out. In fact, there are no rooms to be found anywhere in the area for the next four days. Ali's temporarily homeless and its Zac's fault! There's only one thing to do—she'll just have to move in with him until another room opens up. Zac thinks his houseguest is a foulmouthed, ill-behaved hellion. Ali thinks he's an interfering, arrogant bully. But when they work together to investigate a case of kidnapping, human trafficking, and murder…sparks begin to fly. Is this any way to start a romance?
Targeted Age Group: adult
Written by: Mia Frances
Buy the ebook:
Buy the Book On Amazon

Buy the Print Book:
Buy the Book On Amazon
Author Bio:
Mia Frances is the pen name of author Mary Vigliante Szydlowski. As Mia, she's the author of the dark post-apocalyptic romance, TRIBES; steamy romantic suspense novel, Little Girl Lost; and the erotic romance, murder mystery series: IN HIS KEEPING: TAKEN, IN HIS KEEPING: BANISHED, and IN HIS KEEPING: CLAIMED.
Her Science Fiction/Fantasy works include novels: The Ark (Jarl Szydlow), The Colony (Mary Vigliante), The Land (Mary Vigliante), Source of Evil (Mary Vigliante), and novella, The Hand of My Enemy. She's also the author of horror novel, Worship the Night; and Dark Realm, the tale of a dystopian world ruled by Satan. In addition, she's the author of mainstream novel Silent Song. She's also published 10 children's book: Are We There Yet?, Little Sowbug & the Big Flood, Ghoul School, Millie Muldoon & the Case of the Halloween Haunting, Millie Muldoon & the Case of the Thanksgiving Turkey-napper, Millie Muldoon & the Christmas Mystery, A Puddle for Poo, Kia's Manatee, The Duck in the Hole, and I Can't Talk I've Got Farbles In My Mouth.
Her short stories, articles, children's stories, essays, and poems have appeared in books, magazines, newspapers, and on the web. She's also a contributor to the Chicken Soup for the Soul anthologies: The Dog Did What?, Volunteering and Giving Back, Merry Christmas!, Mom Knows Best, and Life Lessons from the Dog.
She's a member of the Authors' Guild, Society of Children's Books Writers and Illustrators, Science Fiction & Fantasy Writers of America, and Romance Writers of America.
Follow the author on social media:
Learn more about the writer. Visit the Author's Website
Facebook Fan Page
Twitter
Instagram
Pinterest
LinkedIn
YouTube
This site contains affiliate links to products. We may receive a commission for purchases made through these links.