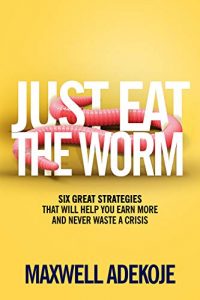 About JUST EAT THE WORM:
In times of obscurity, due to the global epidemic, inspiration becomes the mind's well-being. Hope is required to keep moving towards progress. Who we need to become must occur before we become to outlast any crisis. Every crisis will pass because it's temporary and seasonal.
Just Eat The Worm is not just a book of hope and inspiration but wisdom and an antidote to excel in any adversity. A gem can't be refined without friction, nor a man perfected without trouble.
This book covers six proven strategies to embrace in tough times. Just Eat The Worm is a mental weapon for overcoming and outlasting crisis.
Each story is unique, with lessons from real life experiences. It's a must-have book for anyone who wants to achieve massive success.
Targeted Age Group: 18-75
Written by: Maxwell Adekoje
Buy the ebook:
Buy the Book On Amazon

Buy the Print Book:
Buy the Book On Amazon
Author Bio:
Motivational Speaker, coach, and best-selling author Maxwell Adekoje works with individuals and businesses to grow their communication, connection, and leadership to make a substantial change in the world.
His unrelenting drive for empowering people has fueled maxwell's journey to success with several awards and achievements.
Maxwell is known for his passion, rocking the platform with over twelve years of training experience, making connections with audiences, and an unquenchable hunger for helping others attain their highest potential.
After his success in the corporate and business world, he is on a mission to inspire and motivate people globally.
When not writing, speaking, or training, Maxwell loves to create exquisite meals with his beautiful wife, Guzal Adekoje. They both have a passion for helping hungry young children around the globe. Max is proud to be a member of the John C Maxwell Team, Brain Tracy, and Les Bown's power voice.
Maxwell Adekoje was born and raised in war-torn Nigeria. Through perseverance, Mr. Adekoje found his true calling through the daunting adversities and challenges he faced throughout his life. One thing has remained constant in his life: his gratitude.
Adekoje's new book takes you on a journey through time—a thrilling journey full of struggle, perseverance, and gratitude in the face of adversity. Mr. Adekoje has penned down his life journey to inspire others, inspiring others to realize and attain their full potential because the higher is always calling.
Follow the author on social media:
Learn more about the writer. Visit the Author's Website
This site contains affiliate links to products. We may receive a commission for purchases made through these links.