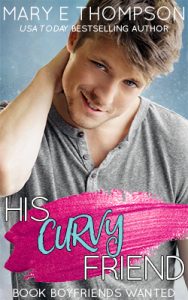 About His Curvy Friend:
Getting involved with her best friend's brother was a mistake from the start. Ian was the guy you spent one night with, not forever. It was a mistake to fall into his arms, but the bigger mistake was thinking she could ever let go again.
Targeted Age Group: 18+
Written by: Mary E Thompson
Buy the ebook:
Buy the Book On Amazon
Buy the Book On Barnes & Noble/Nook
Buy the Book On Smashwords
Buy the Book On Apple Books
Buy the Book On Kobo
Buy the Print Book:
Buy the Book On Amazon
Author Bio:
USA TODAY Bestselling Author Mary E Thompson spent most of her childhood wishing she had a few less curves. She hid in the pages of books because her favorite characters never cared what size her clothes were. Now, neither does Mary, and she writes stories that celebrate women like her. Real women who have curves, chase dreams, and find love, because we should all be happy, no matter our dress size.
Mary spends her non-writing time with her husband and two kids, watching too much TV, cheering for her hometown football team (Go Bills!), and hiding chocolate from her family.
Follow the author on social media:
Learn more about the writer. Visit the Author's Website
Facebook Fan Page
Instagram
Pinterest
This site contains affiliate links to products. We may receive a commission for purchases made through these links.