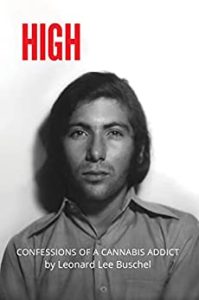 About HIGH: Confessions of a Cannabis Addict:
"The most laugh-filled, action-packed recovery memoir imaginable, but you never imagined reading one. On the road to 'IT,' sometimes we lose and take a turn off the highway to have life experiences.
This read is insightful, intelligent, heartbreaking, mind-bending, provocative, and kick-ass funny. It's all those."
~Joanna Cassidy, Golden Globe Awards-winning actress
Suppose National Lampoon published a hysterically funny and mildly offensive parody of recovery memoirs. In that case, it couldn't be as funny and mildly offensive as this autobiography by Leonard Lee Buschel, co-founder of Writers in Treatment, producers of the internationally acclaimed Reel Recovery Film Festivals, the Experience Strength and Hope Awards, and publishers of the Addiction/Recovery e-Bulletin.
HIGH is far more than a vastly entertaining recovery memoir. It is an open emotional summons, a sincere invitation to a life lived awake, alert, and a life at high energy vibrating at a higher frequency of increased creativity and joy, and if you so desire, social inclusion, fun, fellowship, and plenty of free coffee.
Targeted Age Group: 21+
Written by: Leonard Lee Buschel
Buy the ebook:
Buy the Book On Amazon

Buy the Print Book:
Buy the Book On Amazon
Author Bio:
Leonard Lee Buschel is an influential, seasoned writer, editor, and author of his new memoir,' HIGH: Confessions of a Cannabis Addict,' which is available now on Amazon and featured on many fine literary magazines and book sites.
He is a Philadelphia native and a happy Los Angeles transplant. He is a California Certified Substance Abuse Counselor with years of experience working with people struggling with addiction. He attended Naropa University in Boulder, CO. Mr. Buschel is the founder of Writers In Treatment, whose primary purpose is to promote 'treatment' as the best first step solution for addiction, alcoholism, and other self-destructive behaviors.
Leonard is the director of the 14-year-old "REEL Recovery Film Festival & Symposium®," and for nine years, has been the editor/publisher of the weekly "Addiction/Recovery eBulletin®." He also directs and produces the annual "Experience, Strength and Hope Awards® in Los Angeles."
Past Award Recipients include Christopher Kennedy Lawford, Academy Award-winning Lou Gossett, Jr., Astronaut, Buzz Aldrin, Duran Duran founding band member, John Taylor, Emmy Award winner, Joe Pantoliano, Carrie White, Mackenzie Phillips, CNN's Jane Velez-Mitchell, legendary TV Host Pat O'Brien, American TV star Jodie Sweetin.
Leonard enjoys residing in Studio City, California.
Follow the author on social media:
Learn more about the writer. Visit the Author's Website
Facebook Fan Page
Twitter
Instagram
LinkedIn
This site contains affiliate links to products. We may receive a commission for purchases made through these links.