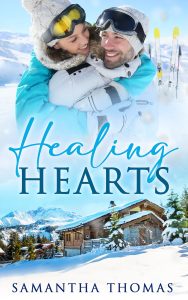 About Healing Hearts:
After inheriting her family's ski resort, Alex Mason is forced to return to her snowy hometown. She's desperate to sell the property and return to the city as quickly as possible — even if she has to go up against Olympic skier Bohdi Vonn, who happens to be her first crush… A heartwarming read!
Targeted Age Group: 14+
Written by: Samantha Horner
Buy the ebook:
Buy the Book On Amazon
Buy the Print Book:
Buy the Book On Amazon
Author Bio:
Samantha Thomas is a mother of three, who has given up the hectic pace of the office for chaotic life at home. When not writing, she is reading, creating cakes that almost always include fire and failing at ways to keep life at home running smoothly.
A Canadian author, Samantha has lived in multiple provinces and currently resides in Calgary, Alberta.
Follow the author on social media:
Learn more about the writer. Visit the Author's Website
Facebook Fan Page
Twitter
This site contains affiliate links to products. We may receive a commission for purchases made through these links.