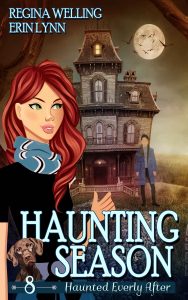 About Haunting Season (Haunted Everly After Mysteries – Book 8):
Friends don't let friends go to jail
When her friend, Patrea Evergreen, gets arrested for the crime, Everly has a new reason to solve Davina Benet's murder. Because, you know, being haunted by Davina's ghost wasn't enough.
Except that Everly has no other suspects, Davina isn't cooperating, and worse, there's another body on the ground. Somebody thought poor Jober Peavey should have kept his mouth shut instead of spreading the most ridiculous gossip the town of Mooselick River has ever heard.
What lines will Everly have to cross before she tracks down Jober's killer?
Targeted Age Group: Trade
Written by: ReGina Welling Erin Lynn
Buy the ebook:
Buy the Book On Amazon
Buy the Print Book:
Buy the Book On Amazon
Author Bio:
ReGina Welling and Erin Lynn are a mother-daughter writing. Together, they have penned two series, The Fate Weaver books and the Ponderosa Pines Cozy Mystery series. ReGina is also the author of the Psychic Seasons books and Earthbound series. They live in rural Maine.
Follow the author on social media:
Learn more about the writer. Visit the Author's Website
Facebook Fan Page
Instagram
This site contains affiliate links to products. We may receive a commission for purchases made through these links.