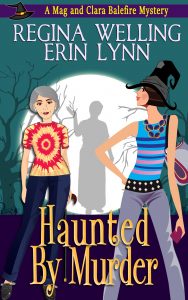 About Haunted by Murder: A Cozy Witch Mystery (The Mag and Clara Balefire Mysteries Book 4):
What will Mag Balefire do when someone from her past comes back to haunt her?
When Bradley Graham disappeared a few weeks before his wedding, everyone assumed he had a case of cold feet. Everyone that is, except for his fiancé and a dead medium named Roma.
If the Balefire sister want to get Roma leave Balms and Bygones, and take all her ghostly friends with her, Mag and Clara must solve the mystery of Bradly's death.
If you like a good paranormal mystery with a heaping dollop of sarcasm and wit, you'll love this humorous magical story full of chaos and intrigue.
This is a full-length, humorous witch cozy mystery novel.
Books in this series
1.Murder Above the Fold
2.Murder on the Backswing
3.Murder Below the Waterline
4.Haunted by Murder
Standalone short stories in the Mag and Clara Balefire world
1.When Spell Freezes Over (takes place before Murder Above the Fold)
2.Vacation from Murder (takes place between Below the Waterline and Haunted by Murder)
3.Wicked Gift of the Witch
Targeted Age Group: Trade
Written by: Erin Lynn
Buy the ebook:
Buy the Book On Amazon
Buy the Book On Barnes & Noble/Nook
Buy the Book On Apple Books
Buy the Book On Kobo
Buy the Print Book:
Buy the Book On Amazon
Author Bio:
ReGina Welling and Erin Lynn are a mother-daughter writing. Together, they have penned two series, The Fate Weaver books and the Ponderosa Pines Cozy Mystery series. ReGina is also the author of the Psychic Seasons books and Earthbound series. Erin and ReGina live in rural Maine.
Follow the author on social media:
Learn more about the writer. Visit the Author's Website
Facebook Fan Page
Twitter
Instagram
Pinterest
This site contains affiliate links to products. We may receive a commission for purchases made through these links.