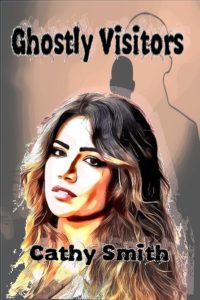 About Ghostly Visitors:
Is it possible for psychic medium, Nichole Collins, to achieve work/life balance? How can she achieve "balance" when her abilities make her get along better with the Dead than the Living? See for yourself in this collection of short ghost stories.
Targeted Age Group: 18-69
Written by: Cathy Smith
Buy the ebook:
Buy the Book On Amazon
Buy the Book On Barnes & Noble/Nook
Buy the Book On Apple Books
Buy the Book On Kobo
Buy the Print Book:
Buy the Book On Amazon
Author Bio:
Cathy Smith is a Mohawk writer who lives on a Status Reservation on the Canadian Side of the Border on Turtle Island (North America).
Follow the author on social media:
Learn more about the writer. Visit the Author's Website
Facebook Fan Page
Twitter
Instagram
Pinterest
YouTube
This site contains affiliate links to products. We may receive a commission for purchases made through these links.