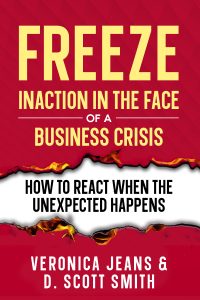 About FREEZE: Inaction In The Face Of Business Crisis:
Are you terrified a serious disruption could rip your business apart? Discover how to craft practical plans to get a better night's sleep.
Is your company expanding so fast, you're worried it's not disaster-proof? Fearful that your baby will be destroyed in a recession? Do you want to shore up your operation and protect it from crisis? Successful entrepreneurs and consultants D. Scott Smith and Veronica Jeans have lived and breathed startups and mergers, helping thousands negotiate commercial change. Now they're here to share expert insights into preparing yourself for any upheaval and laying the groundwork for success.
Freeze: Inaction in the Face of Business Crisis is a hands-on manual filled with easy-to-implement techniques that will fortify your enterprise to handle both foreseen and unexpected hurdles. Aimed at anyone from solopreneurs to freelancers and small businesses, Smith and Jeans lay out simple approaches to protecting your cash flow and growth. And by following and acting on their hard-earned wisdom, you'll breathe easier knowing that your blood, sweat, and tears can weather any storm and thrive.
In Freeze, you'll discover:
– Powerful historical examples of real-world application to surviving disasters and growing
– How to get past inaction so you'll always have something to act on to move forward
– The Value Wheel and why it is key to lowering risk and making your work indestructible
– How neuroscience aids your understanding so you can stop putting out fires and keep ahead of the game
– Ways to identify potential cracks and mitigate against failure, useful thinking models, and much, much more!
Freeze: Inaction in the Face of Business Crisis is an essential handbook for anyone who wants to safeguard their livelihood. If you like straight-to-the-point guidance, rock-solid methods, and ways to turn concepts into action plans, then you'll love D. Scott Smith & Veronica Jeans' indispensable resource.
Buy Freeze to avert a major meltdown today!
Targeted Age Group: Adult
Written by: Veronica Jeans
Buy the ebook:
Buy the Book On Amazon

Buy the Print Book:
Buy the Book On Amazon
Author Bio:
Veronica Jeans is an eCommerce business consultant, speaker, Shopify partner, lecturer, and bestselling author. She has extensive experience helping eCommerce businesses grow in the global marketplace – from startups to brick-and-mortar stores that want to start their own online outlet for additional revenue streams.
Co-author:
D. Scott Smith, is a collaborator sitting in the juncture of strategy and execution. He is known as a "Motivational Listener." Scott is a speaker, coach, and mentor who will inspire and motivate you. He works with businesses and individuals globally.
Follow the author on social media:
Learn more about the writer. Visit the Author's Website
This site contains affiliate links to products. We may receive a commission for purchases made through these links.