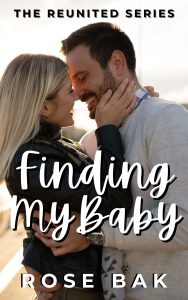 About Finding My Baby:
Emily Langdon thought she'd put her traumatic past behind her…until a letter from the adoption agency changes everything.
Single and child-free, Emily has spent most of her life focused on her career, resigned to never having a family. But now the baby Emily put up for adoption twenty-one years ago wants to meet her, which means telling her daughter the painful truth about what happened in college.
Brian McKenna is like another father to his niece Jane, so when he learns that she's found her birth mother, he's determined to keep her from getting hurt. As he gets to know Emily, he realizes that his niece isn't the only one who's found someone to love.
If only they can both break through Emily's protective walls…
"Finding My Baby" is the second book in the Reunited Series. Each book in the series is a steamy standalone midlife romance featuring a mature couple, meddling best friends, impossible reunions, and a guaranteed happily ever after.
Note: "Finding My Baby" includes references to past events that some readers may find triggering.
Targeted Age Group: adult
Written by: Rose Bak
Buy the ebook:
Buy the Book On Amazon
Buy the Book On Barnes & Noble/Nook
Buy the Book On Smashwords
Buy the Book On Apple Books
Buy the Book On Kobo
Author Bio:
Rose Bak has been obsessed with books since she got her first library card at age five. She is a passionate reader with an e-reader bursting with thousands of beloved books.
Although Rose enjoys writing both fiction and nonfiction, romance novels have always been her favorite guilty pleasure, both as a reader and an author. Rose's contemporary romance books focus on strong female characters over age 35 and the alpha males who love them. Expect a lot of steam, a little bit of snark, and a guaranteed happily ever after.
Rose lives in the Pacific Northwest with her family, and special needs dogs. In addition to writing, she also teaches accessible yoga and loves music. Sadly, she has absolutely no musical talent so she mostly sings in the shower.
Follow the author on social media:
Facebook Fan Page
Twitter
Instagram
This site contains affiliate links to products. We may receive a commission for purchases made through these links.