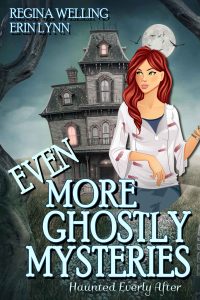 About Even More Ghostly Mysteries: Haunted Everly After Books 7-9 (The Haunted Everly After Collection Book 3):
You might not believe in ghosts, but sometimes they believe in you…
Books 7-9 in the Haunted Everly After paranormal cozy mystery series featuring:
1. Ghostly Dead
2. Haunting Season
3. Ghost Writer
Targeted Age Group: Trade
Written by: ReGina Welling
Buy the ebook:
Buy the Book On Amazon
Author Bio:
ReGina Welling and Erin Lynn are a mother-daughter writing. Together, they have penned two series, The Fate Weaver books and the Ponderosa Pines Cozy Mystery series. ReGina is also the author of the Psychic Seasons books and Earthbound series. They live in rural Maine.
Follow the author on social media:
Learn more about the writer. Visit the Author's Website
Facebook Fan Page
This site contains affiliate links to products. We may receive a commission for purchases made through these links.