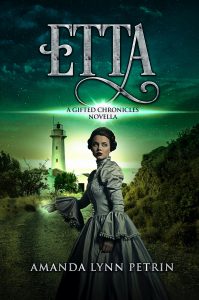 About Etta:
All Loretta wants is to move to Paris, find love, and raise a house full of children. Preferably with someone kind, strong, and handsome.
Everything changes when she is brutally murdered by someone she trusts, only to wake up the following day, unscathed.
As Loretta struggles to make sense of her new lease on life, she builds unexpected friendships and meets the man of her dreams…but none of it will mean anything if she can't stop the man who hurt her.
Etta is a prequel novella featuring characters from both the Owens Chronicles and Gifted Chronicles Series. Fans of Cassandra Clare's The Infernal Devices will love this historical paranormal adventure!
Targeted Age Group: 13+
Written by: Amanda Lynn Petrin
Buy the ebook:
Buy the Book On Amazon
Buy the Book On Barnes & Noble/Nook
Buy the Book On Smashwords
Buy the Book On Apple Books
Buy the Book On Kobo
Buy the Print Book:
Buy the Book On Amazon
Author Bio:
Amanda Lynn Petrin is the author of Shards of Glass, as well as The Owens Chronicles and The Gifted Chronicles series. She graduated with a double major in History and Psychology from McGill University, then spent a decade pursuing an acting career before turning to writing. She currently lives in Montreal, where she enjoys spending time with her family and living vicariously through her characters.
Follow the author on social media:
Learn more about the writer. Visit the Author's Website
Facebook Fan Page
Twitter
Instagram
This site contains affiliate links to products. We may receive a commission for purchases made through these links.