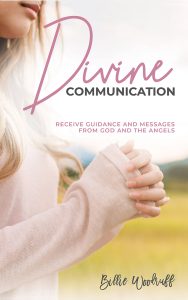 About Divine Communication: Receiving Guidance and Messages from God and the Angels:
In Divine Communication, Billie Woodruff shares poignant stories of how God and the angels guided her as well as shares tips and guides on how to do this in a variety of ways yourself. At the end, of each chapter, she includes angelic messages as well as a summary. Grow closer to God and learn how to receive divine guidance in a variety of opportunities today.
Targeted Age Group: 18+
Written by: Billie Woodruff
Buy the ebook:
Buy the Book On Amazon

Buy the Print Book:
Buy the Book On Amazon
Author Bio:
Billie Jo Woodruff remembers fondly the first time she heard God speak to her. Since that moment, she focused on developing her talent for communicating with the divine.
Senjoys good movies, spending time in nature, and spending time with her family. She loves iced coffee, tropical iced tea, flowers, and of course, her relationship with God.
Because of that relationship, she felt divinely guided to write this book. Calling on her past teaching experience and guidance from God and the angels, she shares experiences and hopes her readers learn to hear God's messages for themselves. This can make all the difference in their lives, just as it did in hers.
Follow the author on social media:
Learn more about the writer. Visit the Author's Website
Facebook Fan Page
Instagram
This site contains affiliate links to products. We may receive a commission for purchases made through these links.