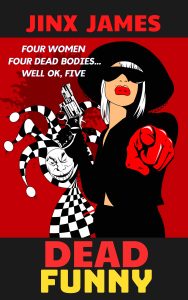 About Dead Funny: Four Women, Four Dead Bodies…well ok, Five:
A fast-fading celebrity is prepared to do anything, yes anything, to capture the headlines again. Unfortunately, Annabel had picked a very bad day to kill her husband. Four equally ballsy women cross a moral line to get what they want, with unexpected consequences.
DEAD FUNNY confirms that the world is as crazy and off-kilter as you always suspected. It's an outrageous quartet of Noir short stories throbbing with dark humor and suspense.
Targeted Age Group: Adult
Written by: Jinx James
Buy the ebook:
Buy the Book On Amazon

Author Bio:
Humorous crime fiction author Jinx James was born in the UK, and lives in Australia. He has worked in music, advertising, and TV comedy.
He now lives in a wine-growing area in regional Australia with his wife and two dogs.
He used to collect guitars. Now he collects wine and has fun creating crazy characters.
Follow the author on social media:
Learn more about the writer. Visit the Author's Website
This site contains affiliate links to products. We may receive a commission for purchases made through these links.