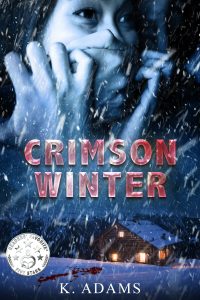 About Crimson Winter:
Lucy Wang, a Chinese-Canadian woman, leads an idyllic life (which also includes plans to soon become a mother) in Montreal with her husband Patrick, an English Canadian entrepreneurial millionaire whose career is on the rise. Her crystal castle cracks when she discovers that he is having a passionate extramarital affair. Chance leads Lucy to learn of an unconventional, new method for tackling the problem, unknown in the West but all the rage in China, and travels to China to learn more about it. Back in Canada, sets her plan in motion, ignoring that in addition to standing up to her rival in love, she will have to face powerful adversaries in the shadows, to the point of risking her own life. Her dilemma: to accept a premature defeat and quit or gather up the necessary courage to transform herself into a new, empowered woman and go further to meet the ultimate consequences.
Targeted Age Group: Adult
Written by: Ken Adams
Buy the ebook:
Buy the Book On Amazon

Author Bio:
I am a lawyer (LL.M., McGill University, Montreal, Canada) and, most important, a happy husband and father of two boys, one born on December 2022. After practicing law for many years and serving as ad hoc diplomat to a specialized UN agency, I could no longer ignore the spark of writing. "Crimson Winter" is my debut novel, in which I invested a lot of time, hard work and passion. Nothing would make me happier than counting on you as a reader and critic! I invite you to read a little more about me and this novel here: https://mybookplace.net/author-interview-ken-adams/
This site contains affiliate links to products. We may receive a commission for purchases made through these links.