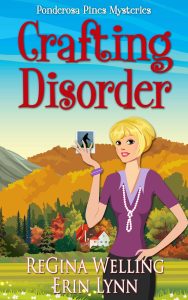 About Crafting Disorder (The Ponderosa Pines Series – Book 2):
Bigfoot is loose in Ponderosa Pines
What with thwarting a blackmailer intent on sabotaging their beloved community, and navigating their increasingly complicated romantic lives, Chloe LaRue and EV Torrence already have their hands full. But mischief is afoot.
Or, maybe mischief is a Bigfoot.
With items mysteriously disappearing in the night, the sleepy town no longer seems the safe haven it once was. And things only get worse when one of the residents posts a photo of a shadowy figure on the Internet, and the story goes viral.
Now, the two best friends must figure out what's lurking in the woods, and hatch a plan to save their town from a merry band of Sasquatch hunters intent on creating chaos in the weird and wonderful town of Ponderosa Pines.
If you like small-town cozy mysteries set in Maine, and quirky characters, Ponderosa Pines is the place for you!
Targeted Age Group: Trade
Written by: ReGina Welling Erin Lynn
Buy the ebook:
Buy the Book On Amazon
Buy the Book On Barnes & Noble/Nook
Buy the Book On Apple Books
Buy the Book On Kobo
Buy the Print Book:
Buy the Book On Amazon
Buy the Book On Barnes & Noble/Nook
Author Bio:
ReGina Welling and Erin Lynn are a mother-daughter writing. Together, they have penned two series, The Fate Weaver books and the Ponderosa Pines Cozy Mystery series. ReGina is also the author of the Psychic Seasons books and Earthbound series. They live in rural Maine.
Follow the author on social media:
Learn more about the writer. Visit the Author's Website
Facebook Fan Page
Twitter
Instagram
This site contains affiliate links to products. We may receive a commission for purchases made through these links.