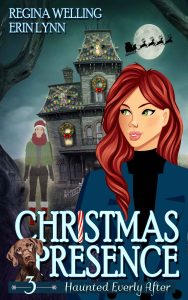 About Christmas Presence (Haunted Everly After Book #3):
Binge books 1-6 for just .99 each, then pick up the NEW RELEASE box set of books 7-9!
Everly Dupree helps the dead find peace whether she wants to or not.
This Christmas, all Everly Dupree wanted was a little peace and quiet, some time with family, and a glass of eggnog. What she didn't need was the ghost of the scandal in her past to rear its ugly head.
When reporter, Amber Hale shows up on Everly's doorstep asking for an interview she learns there were worse things her ex-husband could do besides cheating on her—like embezzling money from his family's company and framing Everly for the theft.
Things couldn't be worse, right?
Wrong. Before Everly can get her breath back, she and her friends stumble over Amber Hale's dead body, and now she has to deal with the ghost in her present.
Before she'll have any hope for a peaceful future, Everly Dupree will need to put all her ghosts to rest.
If you like gutsy heroines who solve ghostly mysteries, you'll love this cozy, paranormal series.
Targeted Age Group: Trade
Written by: ReGina Welling Erin Lynn
Buy the ebook:
Buy the Book On Amazon
Buy the Print Book:
Buy the Book On Amazon
Author Bio:
ReGina Welling and Erin Lynn are a mother-daughter writing team. Together, they have penned four series, The Fate Weaver series, the Ponderosa Pines Cozy Mysteries, the Mag & Clara Balefire Mysteries, and the Haunted Everly After Mysteries. ReGina is also the author of the Psychic Seasons books and Earthbound series. They live in rural Maine.
Follow the author on social media:
Learn more about the writer. Visit the Author's Website
Facebook Fan Page
This site contains affiliate links to products. We may receive a commission for purchases made through these links.