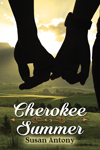 About Cherokee Summer:
When Ace leaves home to spend the summer in Cherokee, North Carolina the last thing she expects to find is a boyfriend until she meets Cherokee Tribe member John Spears. As Ace and John's friendship blossoms, they find their life experiences mirror each other and they fall in love. Despite hurdles thrown by well-meaning family members and jealous frenemies, the star-crossed lovers remain committed to their mutual belief that the universe has drawn them together. However, when Ace sends John a strange text and then suddenly disappears, the two must rely on their trust in each other to save both their lives and their love
Targeted Age Group: 15+
Written by: Susan Antony
Buy the Print Book:
Buy the Book On Amazon

Author Bio:
Susan Antony is an IT by day, hip-shaker and writer by night, artist whenever possible, and an
internet addict. She lives in the sunny south with her teenaged son and two Cairn Terriers.
Cherokee Summer placed first in the Missouri Romance Writers of America "Gateway to the Best" contest, was a 2019 OKRWA finalist, was a 2020 Author Shout Recommended Read, took 1st in the 2020 Write Touch Readers Award, and took the bronze metal in the 2020 Readers Favorite Contest. Cherokee Summer was a 2021 Vivian Finalist.
Follow the author on social media:
Learn more about the writer. Visit the Author's Website
Facebook Fan Page
Twitter
Instagram
YouTube
This site contains affiliate links to products. We may receive a commission for purchases made through these links.